Golf coaching is available seven days a week from 8am. We pride ourselves to provide the best possible professional advice, whilst each lesson is tailored and enjoyable for the golfer.
Why Coaching?
Andrew and Chris are passionate about helping you play better golf.
Every golfer enjoys the game more when they're hitting good shots and playing well and this is our mission for you.
Think back to your last few rounds and try to pinpoint an area that cost you shots…
Maybe, you had too many three-putts as a result of poor distance control? Or did you miss too many fairways to the right meaning you had to chip out sideways? It could be that you play well in practice rounds with your friends but struggle to replicate that in competitions?
Through our experiences in the game and our PGA education, we appreciate that every golfer is different. That's why we offer a range of lessons and packages to suit everyone.
Golf lessons are available at The Millbrook Golf Club in Bedfordshire and we use the FlightScope Mevo launch monitor.
Q1. I've never had a lesson before, will the Pro think I'm rubbish?
A1. We never make anyone feel uncomfortable about their golf. Sessions have a relaxed atmosphere and should be enjoyable.
Q2. My performance in a lesson is not like I normally play.
A2. We have experience when looking over someone's swing that tells me so much more about what golf they can play rather than your first few shots.
Q3. I'm a beginner, where do I start?
A3. We take all beginners on a pathway of learning the basics. From here we can start to build a swing and learn about other aspects of the swing and game. Over a six-lesson period, you will gain the knowledge to take your game to the course.
Q4. My on-course golf is poor, what can I do?
A4. Many lessons are taken on the course. In this type of session, we can assess the players' game plan, check distances and offer different strategies to achieve better results.
Q5. How quickly will I see results?
A5. This can depend on the individuals' efforts to practice new movements, however, normally a golfer will hit the ball better in the first session.
Lessons will cover:
Golf Fundamentals
Swing Basics
Short Game
Long Game
Course Management
Andrew Coleman - PGA Head Professional
I've been teaching golf for 25 years. During this time, I have built a wealth of knowledge, listening and working with some great teachers. My coaching has taken me around the world providing me with valuable experience coaching men, ladies and junior players whether beginner or established players. I believe improving your golf is a journey, a relationship between player and coach that will help build on your road to success. It's important to establish your goals and where you as a golfer would like to go. Following an appraisal, we can set a plan in place about how we are going to improve your golf. So why not come on a journey of improvement and let's see how I'm going to take your golf to the next level. I look forward to hearing from you "make it happen don't delay book a lesson today.
---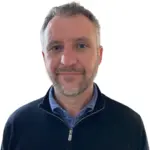 Chris Guy - Professional Golf Coach
Creating movements that matter to the individual player as well as formulating the easiest path to your career goals has been at the forefront of my instructing career for the past 15 years. Originally from South Africa and having started his teaching career in the UK, Chris Guy's ability was soon being imported to Turkey for 3 years as the Head Professional at the Sueno Golf Academy. An offer to move to Austria, working at the country's number one golf course, allowed Chris to maintain an academy for several years teaching complete beginners, the intermediate golf and the advanced young aspiring tour players and top amateurs in the country. Using techniques to encourage better bio-mechanical skills to improve your chances of a better, more enjoyable golf experience and the acquisition of 'generic skills' including problem solving, critical thinking during 'that' round of golf are some of Chris' expertise to help you become a better player. I look forward to helping you on your path to success
---
Great lesson with great ideas that helped me immensely.
Roly - Club Member
Easy to understand, sorted my swing out so that I was hitting the ball a lot straighter, will continue with my lessons definitely. Looking forward to going back.
Brian - Club Member
Andrew is a great teacher, he breaks instructions down so it's easy to understand and is really friendly and helpful. I would highly recommend his lessons.
John - Club Member
Clear instruction, with goals to achieve In the lesson, and drills to work on when practicing at the range / or your golf club
Mark - Club Member